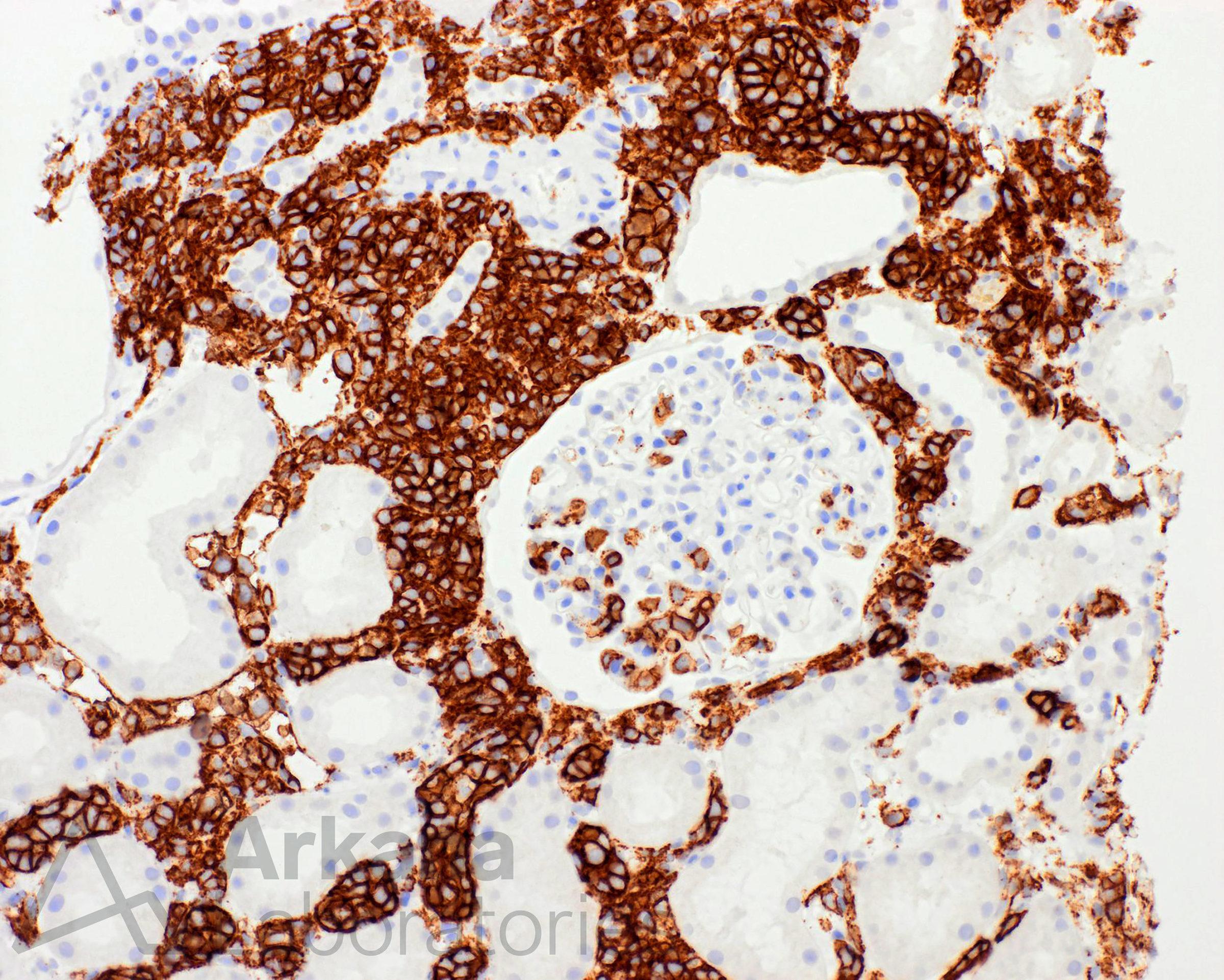 This is a CD20 immunohistochemical stain. Knowing that these cells are mostly within peritubular capillaries, what is your diagnosis?
​ ​   ​   ​ ​   ​   ​   ​   ​   ​   ​   ​   ​   ​   ​   ​   ​   ​   ​   ​   ​   ​   ​   ​   ​   ​   ​   ​   ​   ​   ​   ​   ​   ​   ​   ​   ​   ​   ​ ​   ​ ​   ​ ​   ​ ​     ​
This is an intravascular large B-cell lymphoma (LBCL), which is a rare type of LBCL that is characterized by the presence of neoplastic B cells limited to the lumen of small vessels. This is likely secondary to their lack of expression of surface proteins that allow transvascular migration. Malignant B cells are only rarely present in peripheral blood (5%) or bone marrow.  The patient also had pituitary enlargement, adrenal insufficiency, and anemia, for which a bone marrow biopsy was performed with negative results. The diagnosis was established through a renal biopsy performed due to elevated serum creatinine. Urine sediment was unremarkable.
https://www.sciencedirect.com/science/article/pii/S0006497120606875
Quick note: This post is to be used for informational purposes only and does not constitute medical or health advice. Each person should consult their own doctor with respect to matters referenced. Arkana Laboratories assumes no liability for actions taken in reliance upon the information contained herein.