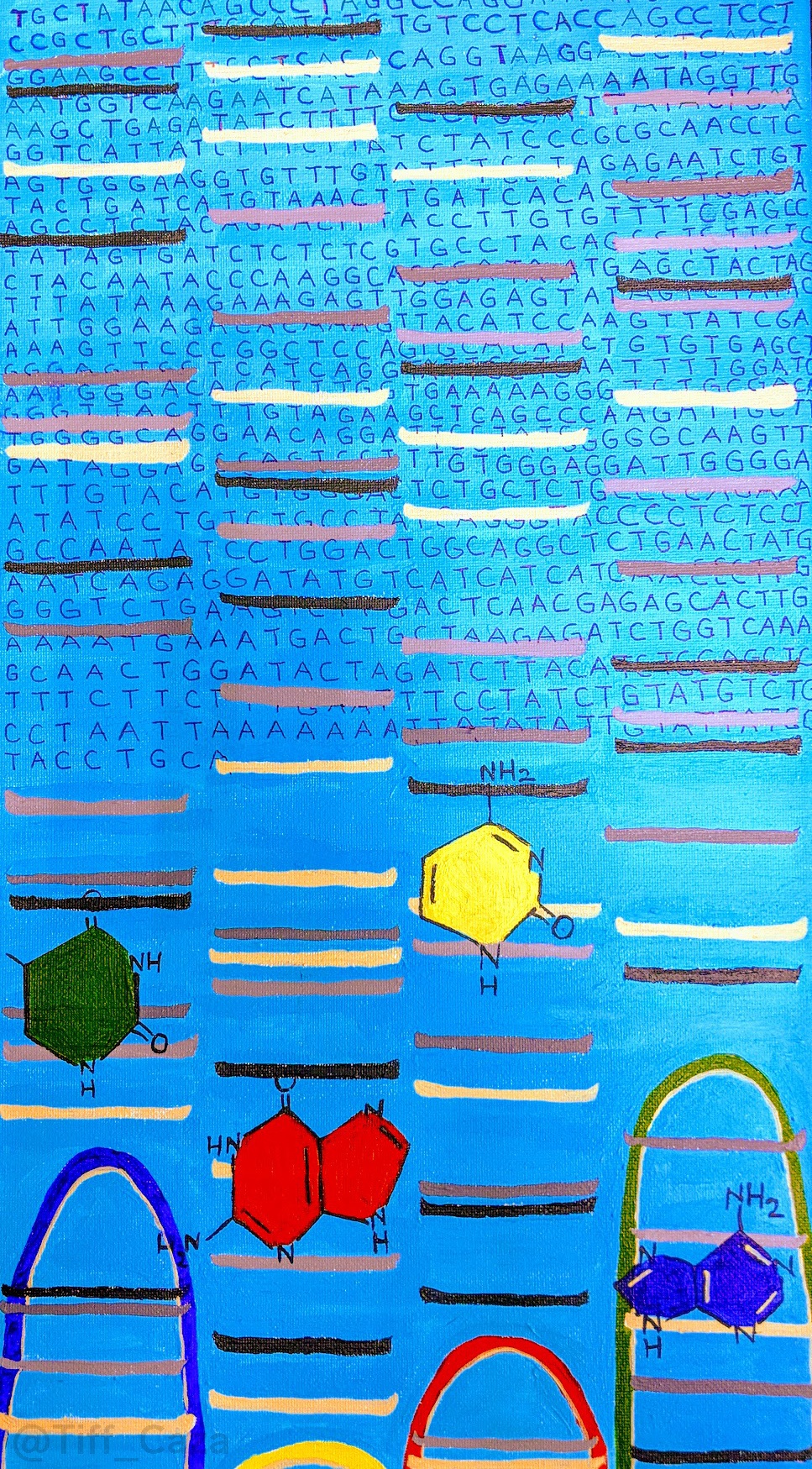 The above painting shows an image of a sequencing gel, which are produced by DNA synthesis in the presence of sequence terminators such as dideoxyribonucleotides (that are mixed with deoxyribonucleotides used for chain elongation), with the DNA fragments run on an agarose gel. The agarose gels are then imaged using a DNA intercalator, such as ethidium bromide, that allows the DNA fragments to fluoresce in the ultraviolet spectrum. This is the basis of Sanger sequencing. Advances to Sanger sequencing included use of fluorescent labeled chain terminators, which allowed for a higher throughput readout and faster results. These could also be performed by capillary electrophoresis replacing agarose gels. Now with next generation technologies, massively parallel sequencing is possible, which is more powerful with increased read depth to allow for increased coverage and low percentage sequence variations to be detected.
Studies have demonstrated that genetic factors play a role in the etiopathogenesis of lupus nephritis, as there are high heritability estimates (66%) and a 24-56% concordance in monozygotic twins (Deapen et al, 1992). Genome wide association studies have mapped multiple genetic loci with disease susceptibility. The genes implicated produce proteins involved in pathways important to lupus pathogenesis, including T cell activation, B cell activation, apoptosis, ubiquitination, immunoglobulin recognition through Fc receptors, antigen presentation, and autophagy (Liu et al, 2016).
Genetic factors may also impact disease prognosis. APOL1 risk alleles in African American patients with lupus nephritis are associated with segmental glomerulosclerosis and collapsing glomerulopathy. Collapsing glomerulopathy may represent an extreme form of lupus podocytopathy. In a series of 16 patients with SLE and collapsing glomerulopathy, 95% had nephrotic syndrome and over half progressed to end stage kidney disease at 21 months of follow-up (Salvatore et al, 2012).
In a study of 546 cases of African American patients diagnosed with lupus nephritis from the cohort at Arkana Laboratories, 26 cases showed collapsing glomerulopathy (Larsen et al, 2013). APOL1 genotyping for G1 and G2 risk alleles revealed a strong association of inheritance of risk alleles with collapsing glomerulopathy. The presence of 2 risk alleles, either homozygous (G1/G1 or G2/G2) or compound heterozygous (G1/G2) led to a 5.4-fold increased risk of collapsing glomerulopathy.
APOL1 genotyping in African American patients with lupus nephritis may identify patients at risk for collapsing glomerulopathy and a poor prognosis, as this cohort is often resistant to treatment and can progress to end stage kidney disease faster than with proliferative lupus nephritis (class III or IV) alone (Larsen et al, 2013).
References:
Deapen D, Escalante A, Weinrib L, Horwitz D, Bachman B, Roy-Burman P, Walker A, Mack TM: A revised estimate of twin concordance in systemic lupus erythematosus. Arthritis Rheum. 1992, 35: 311-318.
https://www.ncbi.nlm.nih.gov/pubmed/1536669
Larsen CP, Beggs ML, Saeed M, Walker PD. Apolipoprotein L1 risk variants associate with systemic lupus erythematosus-associated collapsing glomerulopathy. JASN 2013 April; 24 (5): 722-725.
https://www.ncbi.nlm.nih.gov/pubmed/23520206
Liu L, Yin X, Wen L, Yang C, Sheng Y, Lin Y, Zhu Z, Shen C, Shi Y, Zheng Y, Yang S, Zhang X, Cui Y. Several critical cell types, tissues, and pathways are implicated in genome-wide association studies for systemic lupus erythematosus. G3: Genes, Genomes, Genetics 2016 Jun; 6 (6): 1503-1511.
Salvatore SP, Barisoni LM, Herzeberg AM, Chander PN, Nickeleit V, Seshan SV. Collapsing glomerulopathy in 19 patients with systemic lupus erythematosus or lupus-like disease. CJASN 2012 June; 7 (6): 914-925.
https://www.ncbi.nlm.nih.gov/pubmed/22461531
Quick note: This post is to be used for informational purposes only and does not constitute medical or health advice. Each person should consult their own doctor with respect to matters referenced. Arkana Laboratories assumes no liability for actions taken in reliance upon the information contained herein.