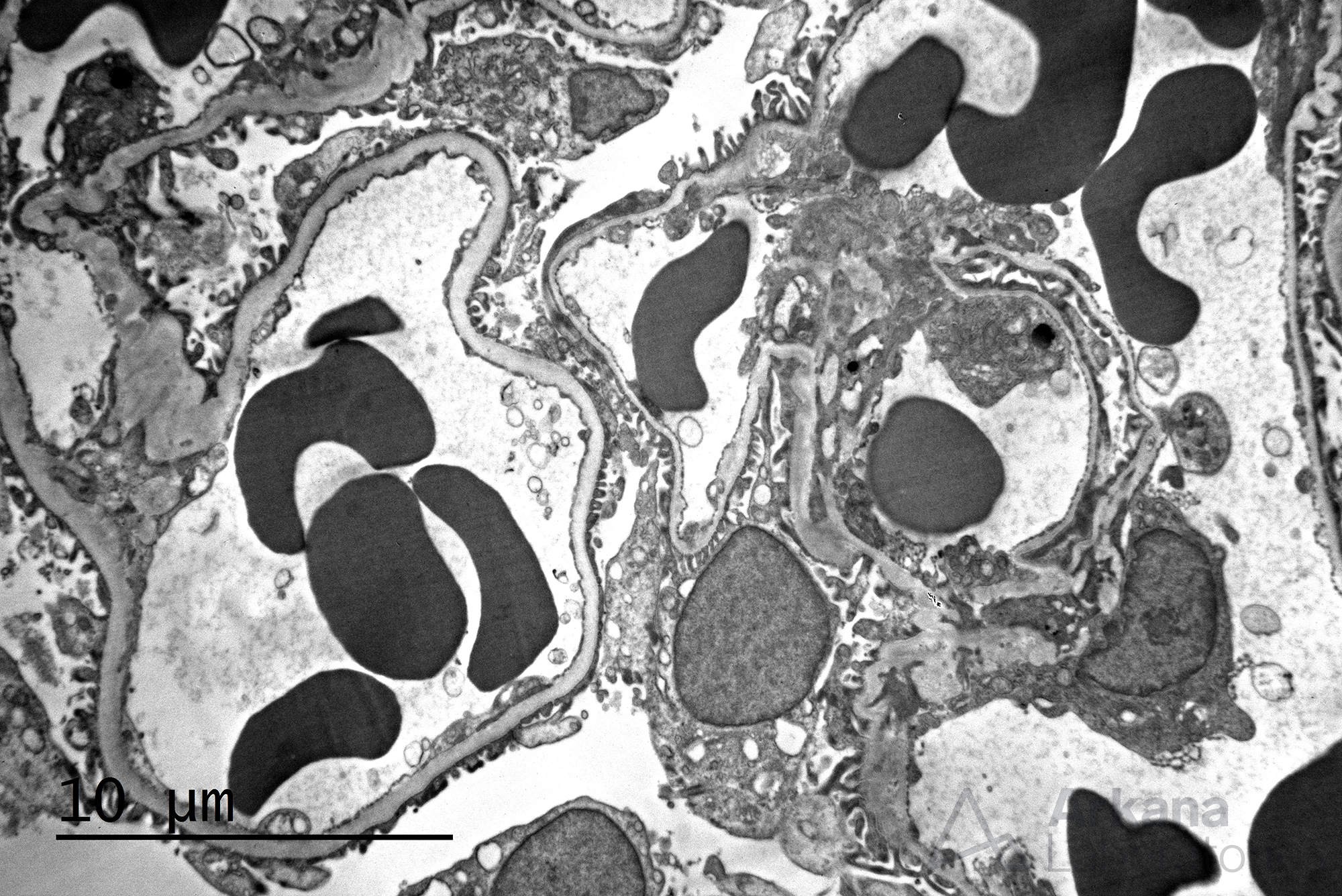 What is your diagnosis?
    ​ ​   ​   ​ ​   ​   ​   ​   ​   ​   ​   ​   ​   ​   ​   ​   ​   ​   ​   ​   ​   ​   ​   ​   ​   ​   ​   ​   ​   ​   ​   ​   ​   ​   ​   ​   ​   ​   ​ ​   ​ ​   ​ ​   ​ ​     ​
  ​   ​ ​   ​   ​ ​   ​   ​   ​   ​   ​   ​   ​   ​   ​   ​   ​   ​   ​   ​   ​   ​   ​   ​   ​   ​   ​   ​   ​   ​   ​   ​   ​   ​   ​   ​   ​   ​   ​   ​ ​  
The electron microscopy image shows a medium powered image of glomerular basement membranes (GBMs), mesangium, and podocyte foot processes. This image is tricky in that the GBM to the left draws your eye and it is of relatively normal thickness. However, upon closer evaluation, all other GBMs in the field are thin, especially when compared to the more normal appearing one. Developing an eye for GBM thickness requires looking at a large number of biopsies. And, on testing, if thin GBMs are shown they will either have measurements available (<250 nm is usually around the cutoff for thin GBMs), be an obvious example, or they will have internal controls for reference as this case does. Our patient in this example presented with a long history of microscopic hematuria, preserved renal function, and no proteinuria. The biopsy showed normal appearing renal tissue with rare RBC casts and negative immunofluorescence staining. The EM showed overall thin GBMs averaging around 210 nm, but with rare GBMs showing low normal thickness. An Alport panel (a low sensitivity, high specificity test consisting of the alpha 2 and alpha 5 subunits of type IV collagen) was performed and showed normal staining results. Clinically, no family history of kidney disease, hearing, or eye abnormalities were present and a diagnosis of thin glomerular basement membrane disease was rendered.
Quick note: This post is to be used for informational purposes only and does not constitute medical or health advice. Each person should consult their own doctor with respect to matters referenced. Arkana Laboratories assumes no liability for actions taken in reliance upon the information contained herein.