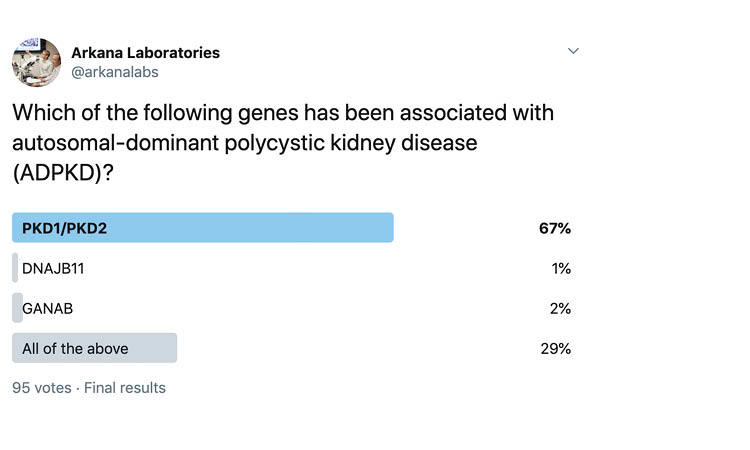 ANSWER: D, All of the Above
ADPKD is the most common inherited kidney disorder. Two genes PKD1 and PKD2, coding for membrane proteins involved in the primary cilium, account for more than 90% of typical cases of ADPKD. A third gene, GANAB coding for the α-subunit of the endoplasmic reticulum-resident enzyme glucosidase II, has been associated with ADPKD and liver disease. Less than 10% of ADPKD families are negative for these 3 genes.
More recently, Cornec-Le Gall and colleagues identified a missense variant and a frameshifting change in DNAJB11 in affected individuals from two negative ADPKD-negative pedigrees. These patients presented with nonenlarged polycystic kidney and liver cysts. DNAJB11 enocdes for a cofactor of the heat shock 70 kDa (HSP70) chaperone binding immunoglobulin protein (AKA GRP-78), which regulates the folding, oligomerization, trafficking, and degradation of proteins in the lumen of the endoplasmic reticulum.
REFERENCES:
Cornec-Le Gall E., Torres VE and Harris PC. Genetic Complexitiy of Autosomal Dominant Polycystic Kidney and Liver Disease. JASN 2018; 29:13-23.
Cornec-Le Gall E., et al. Monoallelic Mutations to DNAJB11 Cause Atypical Autosomal-Dominant Polycystic Kidney Disease. Am J Hum Genet 2018; 3;102 (5):832-844.
Allison, S.J. DNAJB11: another player in ADPKD. Nat Rev Nephrol 2018; 14:476.
Quick note: This post is to be used for informational purposes only and does not constitute medical or health advice. Each person should consult their own doctor with respect to matters referenced. Arkana Laboratories assumes no liability for actions taken in reliance upon the information contained herein.