Back to Blog
Art of Medicine: Monoclonal Gammopathies of Renal Significance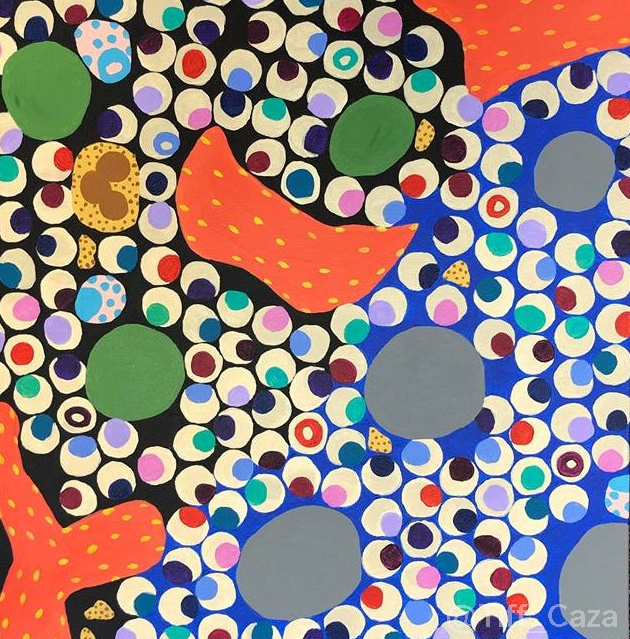 Monoclonal Gammopathies of Renal Significance
The above painting is of a bone marrow biopsy showing replacement of the hematopoietic elements with plasma cells, including atypical plasma cells (Mott cells and plasma cells with Dutcher bodies shown).  This can be seen in plasma cell myeloma. Multiple myeloma can be diagnosed with the presence of a plasma cell myeloma (>10% clonal bone marrow plasma cells), and one or more myeloma-defining events.  These include hypercalcemia, renal insufficiency, anemia, or lytic lesions within bones.
On a kidney biopsy, light chain cast nephropathy is a myeloma defining event and is a paraprotein-associated renal disease.  Other renal manifestations that can occur include, but are not limited to, light chain deposition disease, light chain proximal tubulopathy (with and without crystals), and AL amyloidosis.   Less common diseases associated with multiple myeloma, lymphoid neoplasms, or monoclonal gammopathies include monoclonal fibrillary glomerulopathy, cryoglobulinemic glomerulonephritis types I and II, proliferative glomerulonephritis with monoclonal IgG deposits, cryocrystalglobulinemic glomerulonephritis, immunotactoid glomerulopathy, and crystal storing histiocytosis (Leung N et al, 2019).
The presence of these lesions can also occur in patients without an identifiable B cell or plasma cell clone that meets hematologic criteria for a diagnosis of malignancy and would be monoclonal gammopathies of renal significance (MGRS) in those cases.  MGRS lesions are usually characterized by monotypic deposition of immunoglobulin within the kidney.  The monotypic nature of immune deposits occurs with light chain restriction and restriction to an immunoglobulin subclass.  The presence of light chain deposition without an associated heavy chain component or heavy chain deposition without an associated light chain component is also an abnormal pattern consistent with a MGRS lesion (Leung N et al, 2019).
Also included within the MGRS spectrum of lesions, although may not show monotypic immunoglobulin within the kidney is a subset of C3 glomerulopathy (in the setting of a monoclonal gammopathy), and thrombotic microangiopathy (in the setting of POEMS syndrome).  While morphologically unlike other MGRS lesions, these are included as treatment of the underlying paraprotein producing clone could abrogate the disease.  The presence of kidney injury due to MGRS lesions gives a reason to treat these patients for the underlying clones with therapies directed against B cells or plasma cells, which otherwise would not meet hematologic criteria for treatment.
MGRS lesions can occur in patients with a monoclonal gammopathy of undetermined significance (MGUS), or these lesions can occur from small destructive clones.  MGUS is defined as monoclonal immunoglobulins <30 g/L and less than 10% bone marrow plasma cells. Small, destructive clones are not always detectable on non-invasive assays, such as serum protein electrophoresis and immunofixation, urine protein electrophoresis and immunofixation, or serum-free light chain assays, but can lead to monotypic deposition within the kidney and renal injury.  These small, destructive clones can also remain undetectable after a bone marrow biopsy, even with sensitive flow cytometry techniques to detect small sub-populations.  Despite the inability to detect the clone, there is evidence that patients may benefit from clone-directed therapies in the setting of MGRS, which recently was shown in a group of patients with proliferative glomerulonephritis with monoclonal IgG deposits without detectable paraproteins (Gumber R et al, 2018).
References:
Gumber R, Cohen JB, Palmer MB, Kobrin SM, Vogl DT, Wasserstein AG, Nasta SD, Bleicher MB, Bloom RD, Dember L, Cohen A, Weiss BM, Hogan JJ.  A clone-directed approach may improve diagnosis and treatment of proliferative glomerulonephritis with monoclonal immunoglobulin deposits.  Kidney International 2018 July; 94 (1): 199-205.
Leung N, Bridoux F, Batuman V, Chaidos A, Cockwell P, D' Agati VD, Dispenzieri A, Fervenza FC, Fermand J-P, Gibbs S, Gillmore JD, Herrera GA, Jaccard A, Jevremovic D, Kastritis E, Kukreti V, Kyle RA, Merlini G, Mollee P, Picken MM, Rajkumar VS, Royal V, Sanders PW, Sethi S, Venner CP, Voorhees PM, Wechalekar AD, Weiss BM, Nasr SH.  The evaluation of monoclonal gammopathy of renal significance: a consensus report of the International Kidney and Monoclonal Gammopathy research group.  Nature Reviews Nephrology 2019; 15: 45-59.
Quick note: This post is to be used for informational purposes only and does not constitute medical or health advice. Each person should consult their own doctor with respect to matters referenced. Arkana Laboratories assumes no liability for actions taken in reliance upon the information contained herein.