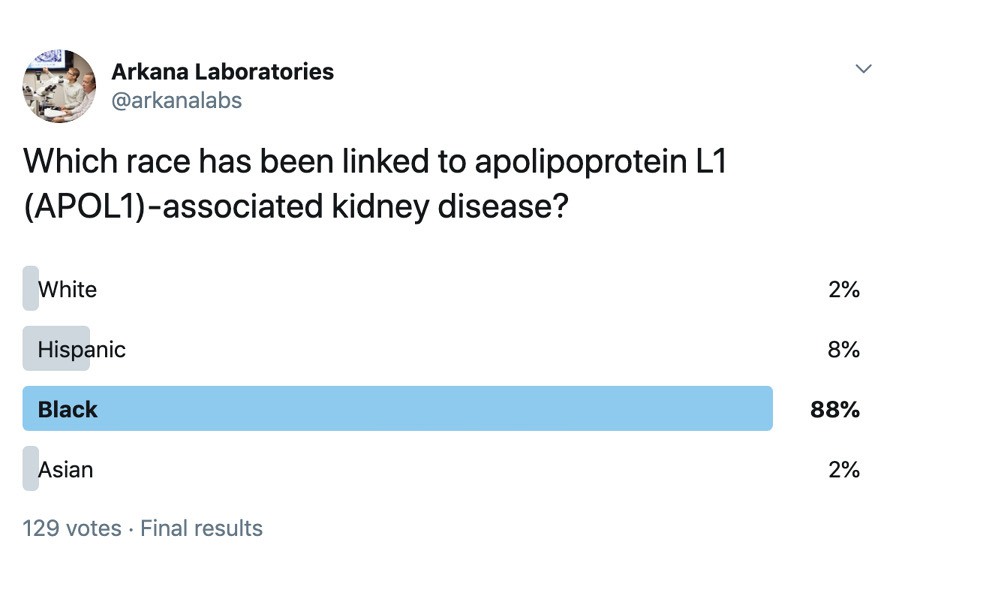 ANSWER: C, Black
APOL1-risk alleles have been reported only on African-derived chromosomes, including individuals from West Africa and recently admixed individuals from the United States or the Caribbean. Approximately 13% of the US African American population carries the APOL1 high-risk genotype.
Recent data suggest that this risk is strongly associated with two common variants (G1 and G2) in the last exon of APOL1 that confer resistance to Trypanosoma brucei infections. The highest G1 and G2 allelic frequencies were described in Western, sub-Saharan Africa, with frequencies >40% for G1 in Ghana and Nigeria, and 24% for G2 in Nigeria.
REFERENCES:
Parsa A, Kao WHL, Xie D, et al. , Race, and Progression of Chronic Kidney Disease. N Engl J Med. 2013; 369(23):2183–2196.
Hughson MD, Hoy WE, Mott SA, et al. APOL1 Risk Variants Independently Associated With Early Cardiovascular Disease Death. Kidney Int Rep. 2018; 3:89–98.
Freedman BI, Limou S, Ma L, and Kopp JB. APOL1-Associated Nephropathy: A Key Contributor to Racial Disparities in CKD. Am J Kidney Dis. 2018;72(5)(Suppl 1):S8-S16.
Quick note: This post is to be used for informational purposes only and does not constitute medical or health advice. Each person should consult their own doctor with respect to matters referenced. Arkana Laboratories assumes no liability for actions taken in reliance upon the information contained herein.